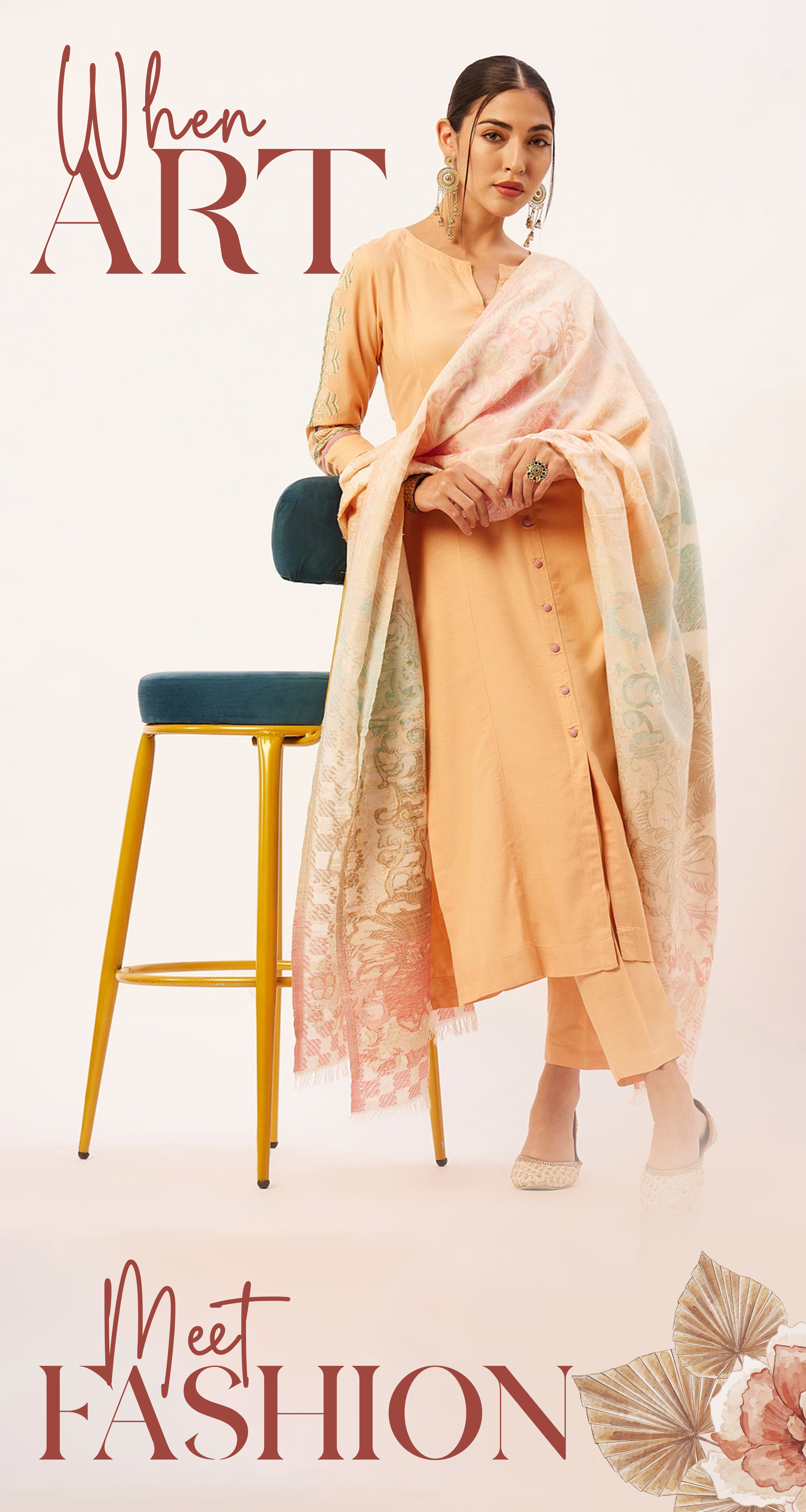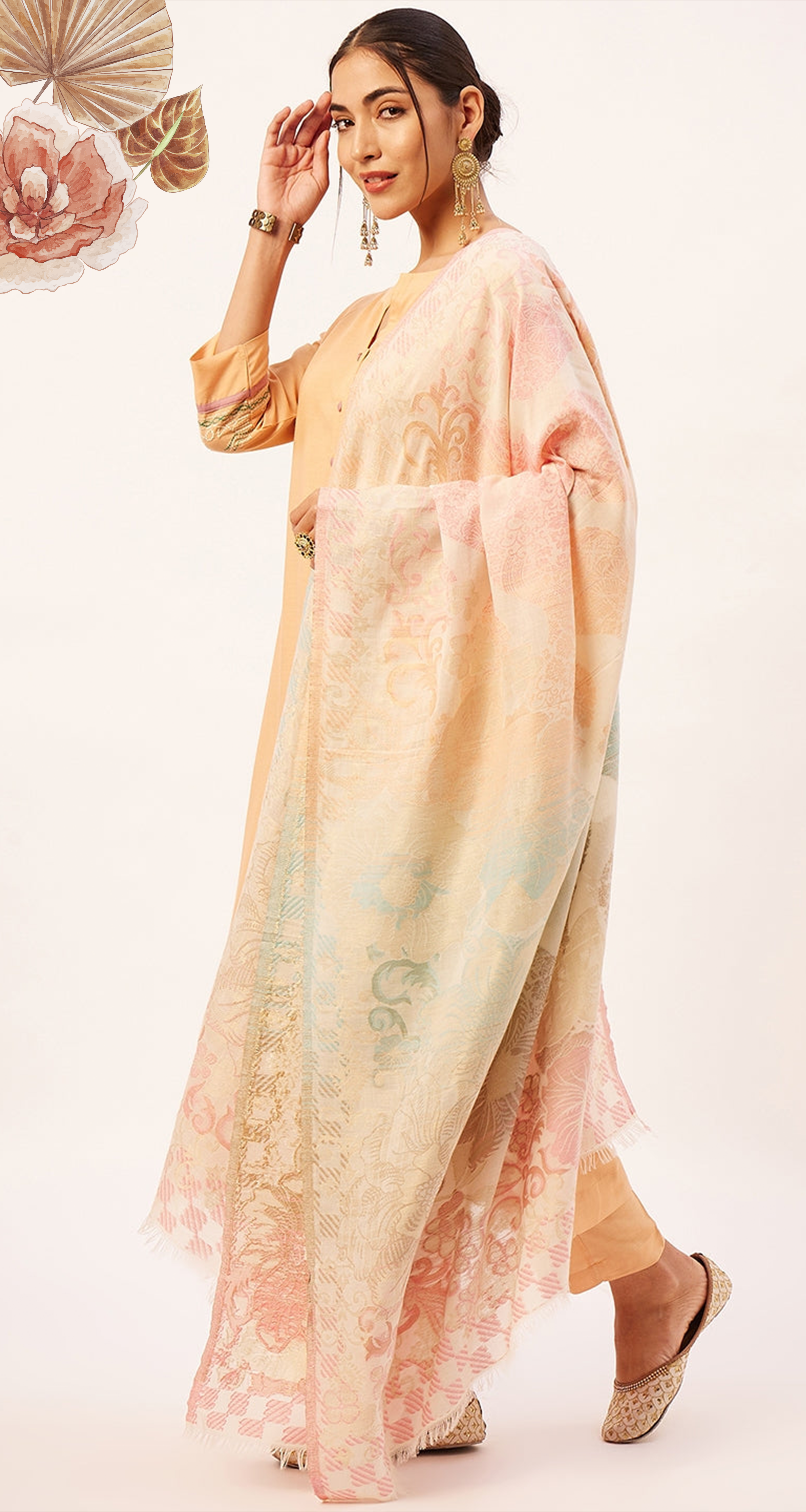 Kurta Set for Women- Presenting the Grace andBeauty of Ethnic Fashion
Your search for a designer and exclusively stitched kurta set for women concludes at Stado. We are proud to introduce the latest collections of kurta sets with dupattas by keeping your desire for the latest trends of fashion in priority.
A good kurta set with dupatta is one of the most preferable go-to outfit options for women in India. It will work on various occasions including parties, festivals, and other gatherings. Our wide collection of kurtas includes velvet kurta sets, woolen kurta sets, embroidered kurta sets, straight kurta sets, and many more.
Our Online collection of Kurta sets for Women is manufactured using superb quality fabrics
that will make the wearer feel comfortable. Easy-to-wash and reasonable prices are some additional features that our valued customers will come acrossmake.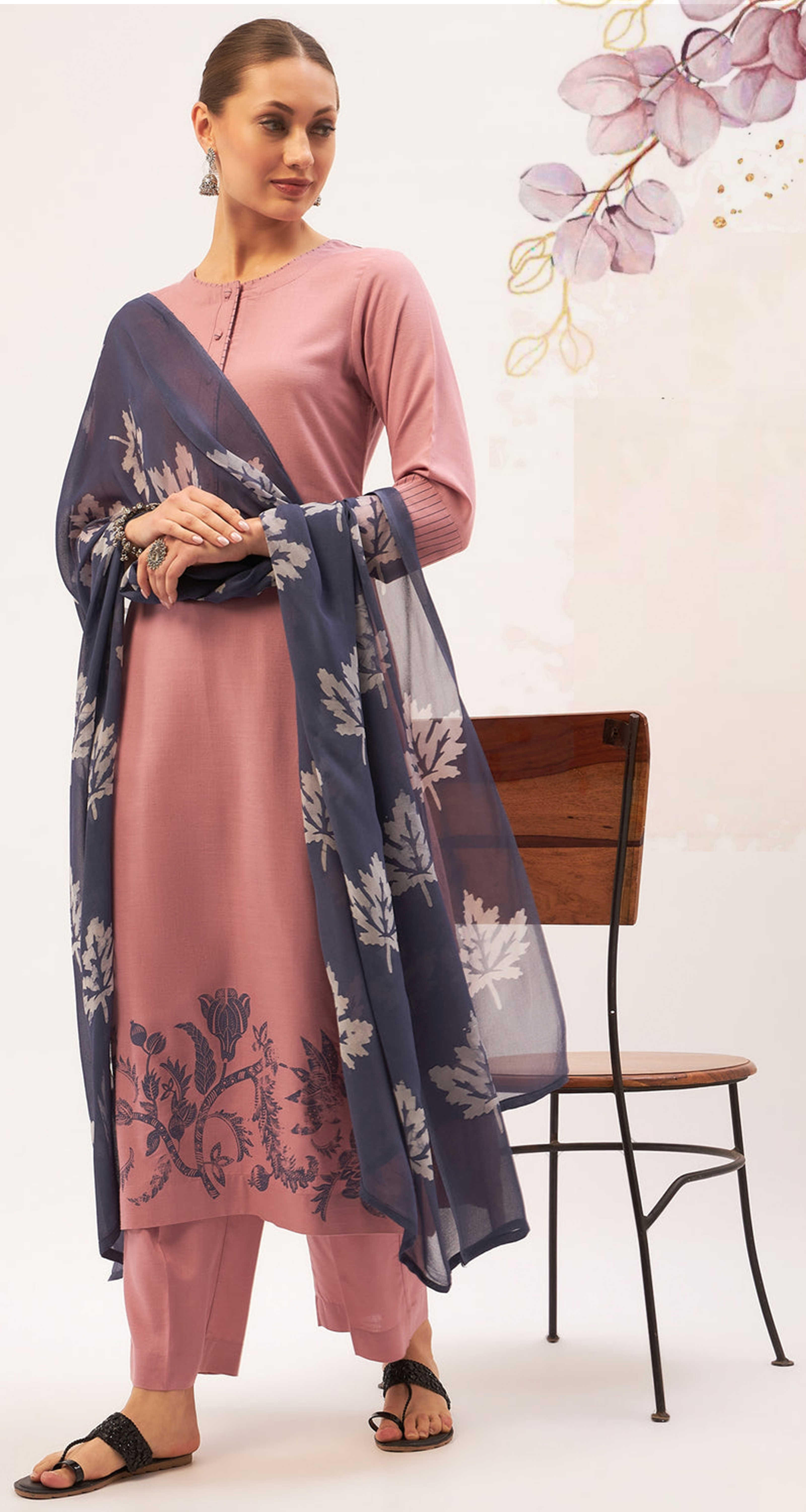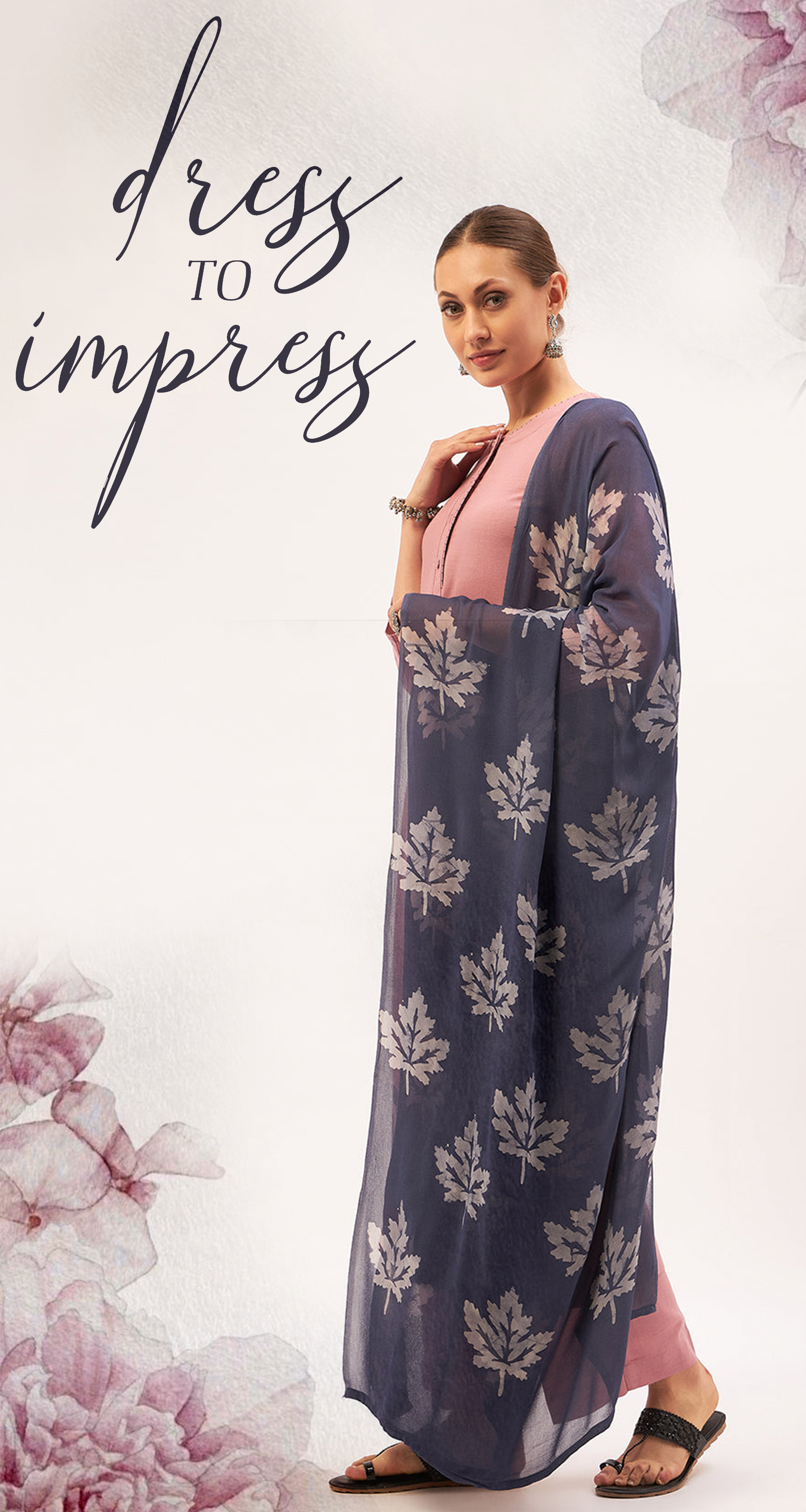 Come Across a Myriad Varieties of Kurta Sets at Your Fingertips
Wide Selection of Exclusively Manufactured Kurta Sets for Women
Every woman yearns for flaunting her style statement by putting up a stylish outfit. If you are also among them and prefer staying in touch with the latest trends in fashion, then we have brought a wide variety of kurta sets with dupattas online.
The varieties that you will be coming across by visiting our e-shop include Anarkali, kurtas with shrugs, asymmetric kurtas, A-line kurtas, short kurtas, long kurtas, and many more. We have gained a reputation for providing the prettiest, most stylish, and most comfortable party wears at a reasonable price rate
Check Variable Patterns of kurta set
with dupatta
Kurtas are also distinguished based on patterns. Whether you are searching for a party wear kurta set for women or casual wear, the patterns included making a very big difference. We have introduced a wide range of patterns for kurtas for women that include florals, abstract, geometric, solid, paisley, schiffli, and many more.
If you have been searching for the right type of festive kurta sets for women for a long, then this is the right place. We have introduced a myriad of collections of kurta sets that are inclusive and exclusive of dupattas. The choice is yours!
Enjoy Shopping for the party wear kurta set for women at Your Comfort
Going out shopping and standing in queues for a long is very difficult in a busy lifestyleand went outdated. Still, you will be able to drape a dress of your choice by keeping yourself up-to-date with the latest trends in fashion by signing up with us.
We facilitate our valuable buyers to buy designer kurta set for women at their convenient time. At our online store, you can place an order anytime. That too without leaving your comfort! Our team updates the collection in frequent seconds. Hence, it will be no more difficult to compare and buy the latest collection of kurta sets.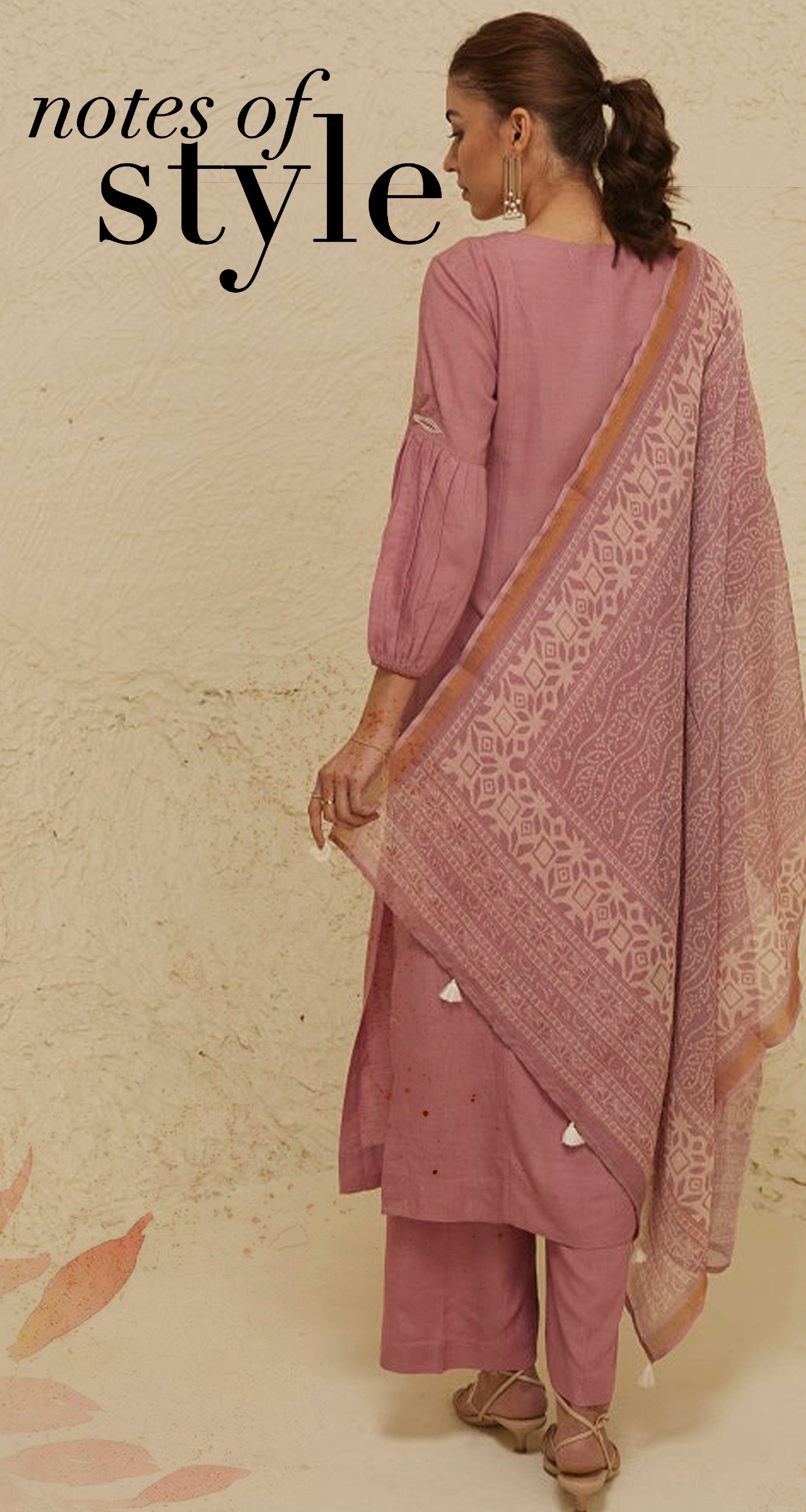 Exclusively Stitched Woolen Kurta Sets, Now Easily Available
A nicely stitched kurta set with dupatta remains a highly popular and exclusive collection in every season. As a fashion enthusiast, you need the right type of dress code to keep yourself comfortable and go along with the trend of fashion.
Similarly, for winter we have introduced a plethora of collection of woolen kurta set for ladies. Available in a variety of sizes ranging between XS to XXL, you will be able to select the one that matches totally with your physical appearance.
We also concentrate on coming up with a woolen kurta set with dupatta having an dazzling color combination. It will help our buyers to make a generous selection based on the occasion.
Do not miss this chance to grab your hot favorite and stylish-looking kurta with a dupatta set. We are going to upgrade the collection soon for a season sale. Hurry up! Special offers are available for fashion lovers.

Frequently Asked Questions
A kurta set for women is a loose and long shirt that is a type of tunic and collarless top. It is worn by almost all religious Indian women as it is a part of our traditional outfit. The designs along with prints are changing with time to create a fusion of tradition with contemporary. It can be easily paired with jeans for formal wear.
With the right combination, you will look great by putting on straight kurta sets. You can choose to go with a plain or printed palazzo to go with the kurta. If your kurta is long, then you may choose palazzo pans to look great. Short kurtas can be easily paired with palazzo pants having a high waist.
If you are looking for an exclusive looking women wear to go with, then a kurta set with a dupatta will be the right choice. Apart from using it as party wear and casual evening walk, a kurta can also be transformed into professional attire. Combining a pair of jeans will stylishly personify your elegance. Also, it is the best option.
A big yes! A kurta set for women is considered to be formal wear too. You can wear it and make your way to a professional place like an office. To reflect a more fit and stylish appearance, you can combine the kurta with a pair of jeans. Also, a stylish sandal will add up to your entire look to the maximum.
Following some exclusive tips to style your straight kurta sets will let you feel comfortable and flaunt your style statement. Those tips include
Putting on a shrug along with your kurta
Pairing the kurta with a denim jacket
Wearing a flared skirt along with the kurta
Putting on a pair of jeans with a kurta to look stunning
Wearing a sharara pants with kurta
Going with a dupatta is optional
Whether you opt for a party wear kurta set for women or office wear, the fabric you choose makes a lot of difference. Cotton is the most preferred fabric that is used for manufacturing a kurta. It is known for its softness and ability to soak sweat. Additional fabrics that are used for manufacturing women's kurtas include linen, wool, chiffon, and georgette
Not necessarily! Nowadays, kurta set for women is available in the market without a dupatta. Today, wearing a dupatta has become optional. Still, if you want; it is possible to go for a matching dupatta. It may be either a plain or bandhani dupatta, whichever option suits you the most.