Sort by
Featured

Best selling

Alphabetically, A-Z

Alphabetically, Z-A

Price, low to high

Price, high to low

Date, old to new

Date, new to old
Elevate Your Style Statement with Co-Ord Sets
Your search for an impeccably adorned and tailored dress concludes at Stado.in. We have come up with a plethora of choices in co-ord sets for women, thus making your selection easy. For an instant gracious look, you may ither wear both pieces together or break them apart.
This two-piece outfit is available in a number of fabrics and styles to match every season. From cozy to smartly-printed co-ord sets, we have brought to you everything under the same roof.
Co-ord Sets, Back in Style!

Co-ords were significant among women around the 1970s. With changing times, fashion designers have put lots of effort to make these dresses significant. The infusion of a dash of Indian culture has made a co-ord dress set a highly popular style statement for today.The inclusion of impeccably adorned and tailored gorgeous embellishments is making this dress a great choice among today's women. Along with co-ord sets having daily tops and trousers, we have introduced co-ord sets comprising the following options:
Mini skirts
Midi skirts
Shorts
Dresses with blazers
The tops are also available in lots of options. Some have featured cutaway shoulders while others have cropped shoulders. A few of them are inclusive of casual shirt-like tops too! Feel free to is cover the most preferable option and enjoy your shopping.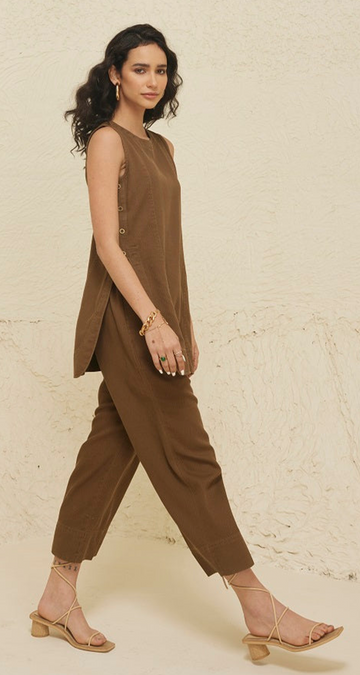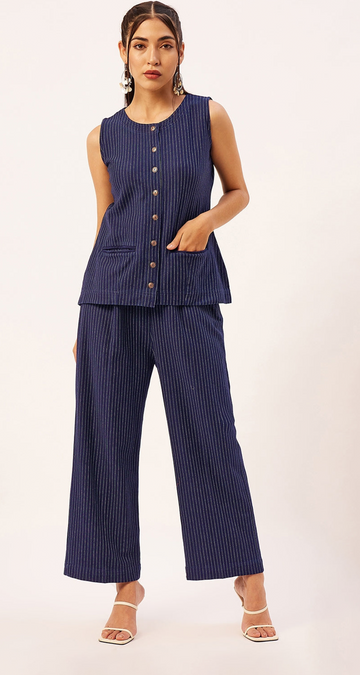 Come Out of the Stress about What to Wear
We are aware of the fact that women remain in a dilemma regarding the picking up of ideal wear. They browse from one option to the other and devote lots of time to comparing the options. Whether you are planning to select formal co-ord sets or party wear, this is the right place.
Co-ord sets are known for toning and styling coordinated combinations of clothing. They need not be matched with other wears to come across an ideal ensemble. Available in a wide range of designs and sizes, opting for the right co-ords sets online in India to match your style will become easy.
Create Exciting Looks with Fashionable Co-Ord Sets
Our exclusively stitched co-ord sets skirt and top sets are perfect solutions for women that prefer quick styling. It is possible to match and mix dresses that will create a highly exciting appearance.

Pairing your co-ord set with a jeans jacket and white sneakers to fetch an effortless look for the weekend. Including a few pieces of fashionable jewelry pieces and strappy sandals will help in creating party co-ord sets.

Our collections are inclusive of summer co-ord setsthat are suitable for almost all body types. Taller women can pair rock-long pans to make themselves look taller. From bright to dark-colored clothing, you can opt for the one that complements your skin tone. For a fresh look, pastels including maroon and bottle green will be the best bet.

Co-ord sets are not only appropriate for casual wear but are suitable for variable occasions as well. So, what are you hinking? Come and select the most appropriate option at Stado. That too at a reasonable budget!
Frequently Asked Questions
What is a co-ord set?
Co-ord sets refer to dresses comprising two different sets. It is manufactured with the help of matching fabrics. They are separate pieces of clothes that are designed for being worn all together. It may be either a set of tops and skirts or a jogger and sweatshirt. These sets are known for providing comfort and can be easily worn at any event
What other items of clothing can I wear with a co-ord set?
The co-ord sets women can be easily paired with soft fabrics that will provide ultimate comfort and a sultry appeal. They may include pencil skirts, bootcut jeans, flowy skirts, skinny jeans pairs, slouchy pants, etc. Regarding accessories, there are ample choices available that include stylish jewelry and sandals having high heels.
How can I style the co-ord set in a different way?
The co-ord sets skirt and top represent a matchy clothing look that makes the wearer hold a stylish look. It is possible to create an optical illusion by wearing a dress that comprises a belt all across the front.There are various ways to style a co-ord dress set that includeOpting for a co-ord set with a neutral colorPairing co-ords with favorite accessoriesMixing and matching denim co-ord set Going with color blocking co-ord dress setsA co-ord dress set can be worn as casual wear, formal wear, and party wear
How do you wear a co-ord?
Whether it is a birthday co-ord set or formal co-ord set, there are several ways to wear a co-ord set. Some of the best ways to wear a co-ord set that will reflect a style statement include the following
Choosing subtle accessories
Wearing high heels
Adding a popping color
Mixing and matching to reflect a subtle look
Going with snake-printed designs
Choosing stylish-looking handbags
You may refer to fashion shows and magazines to come across the latest style statements related to co-ord sets.
What does co-ord dress mean?
A co-ord dress is a decent clothing material that can be worn to reflect the style statement. The co-ord sets refer to separate pieces of clothes that need to be put up altogether. They are known for providing easy comfort to the skin. Also, they are easy to wear.